Cup: 3,000 EUR are on the line
03.07.2015, 21:00
BenQ All-Star Showmatch: Fnatic vs Virtus.pro
Leading gaming monitor manufacturer BenQ is hosting a series of showmatches between world-class eSports teams, across game titles, and presenting exciting competition to gaming communities worldwide through the BenQ All-Star Showmatch. The upcoming edition on July 8 will be the eighth showmatch of the series with two powerhouse teams from Europe.
Fnatic
and
Virtus.pro
will fight it out in a CS:GO best-of-three match for a prize pool of 3000 EUR, winner takes 2000 EUR while the loser gets 1000 EUR.
Both Fnatic and Virtus.pro are ranked in the Top-5 teams worldwide. Fnatic's most recent success was clinching the champion title at
Dreamhack Summer 2015
where they won the final match against
Na'Vi
. On the other hand, Virtus.pro's last appearance in a final was in London where they participated in the
Gfinity Spring Major
, but lost in the final against none other than Fnatic. Now Virtus.pro has the chance to seek revenge in the ultimate rematch thanks to BenQ.
In addition to the showmatch, BenQ will raffle off their XL2430T gaming monitor, which boasts RevolutionEyes™ technology with such features as enhanced Black eQualizer, 144 Hz, and monitor blur reduction as a prize to the community. Become a member and place your bets on the winning team below the news. One lucky winner will be drawn from the correct bets and have this new gaming monitor highlight their next gaming setup!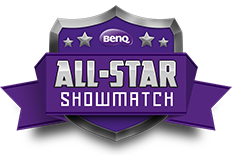 Mark your calendars and be sure to check out the livestreams on July 8, 18:00 CEST at
BenQ Gaming
. The English stream will be brought to you by dabo0 and the German stream by 99Damage.
Loading...
Geschrieben von MooZE
Ähnliche News
Kommentare